Choose from
1-bedroom apartment stay + daily breakfast + water park passes
2D1N stay for 2 for $69 (up to $186 value)
3D2N stay for 2 for $129 (up to $371 value)
2-bedroom apartment stay + daily breakfast + water park passes
2D1N stay for 4 for $137 (up to $274 value)
3D2N stay for 4 for $266 (up to $547 value)
3-bedroom apartment stay + daily breakfast + water park passes
2D1N stay for 6 for $205 (up to $406 value)
3D2N stay for 6 for $380 (up to $812 value)
Private Sandy Retreat
Long stretches of white sand gather on feet and hair, as city dwellers seeking short getaways flock toward beach resorts in serene Desaru. Float down lazy river centrepieces within cooling water parks, while other adventure seekers partake in sports like paintball, jungle trekking, and various seafront activities. Darkening skies bring about silent reverence, surrounding travellers amongst mangrove trees and blinking fireflies before worn bodies retire to apartments.
Revel in inner child urges or occupy actual youngsters with your host's collection of arcade games and a recreational club for juniors, or bring the whole troop to bask in the Hotel's triple spread of swimming pools; matched only by the neighbouring water park which houses a regionally distinguished oversized coconut sending occasional splashes and soaked delight.
While away quiet evenings with soulful tunes and classic numbers belted out in your host's karaoke room, offering hourly stints garnished with choices of tidbits and beverages.
Johor Bahru: Transit City of Vibrant Stopovers and Family-Friendly Attractions
Despite her current standing as the nation's second largest city after Kuala Lumpur, Johor Bahru has only recently stirred from her status as a gateway to Malaysia's various attractions like Cameron Highlands, Butterworth, Malacca, and the capital herself. Unlike her bustling city-neighbour Singapore, Johor Bahru is a stroll past a cluster of shopping malls and Hotels that sit next to quaint neighbourhoods and shop houses.
Take a stroll down Danga Bay's waterfront which is "poised to be as scenic and enticing as Sydney's Darling Harbour", according to Lonely Planet. Claiming the honour of being the state's first residential and recreational park district, the coast-side destination hosts the Danga City Mall shopping centre, the Danga Cruise 8 triple-decker, and a fun park which comes alive with the star-lit skies and gusts of sea breeze.
Consider the menagerie that is the Arulmigu Sri Rajakaliamman Glass Temple, as you step off Jalan Tun Abdul Razak and into the quietly-glittering interiors of one of Tebrau's oldest Hindu temples. Guided by the polished surfaces of the sacred grounds, your exploration of this unassuming sanctuary leads you to her prized centrepiece that is Lord Shiva's lotus. Intricately-designed with prayer beads from Nepal, the former shelter-turned-pilgrim's sanctuary was said to be inspired from a glass artwork of a Thai wat which was visited by the Guru Bhagawan Sittar.
Riding on the commercial wave which comes with the transformation of the Johor Bahru Central Business District, the theme parks of Legoland, Hello Kitty Land, and Little Big Club offer a bevy of thrilling rides just outside of Johor Bahru. Home to the interactive attractions of the first international theme park in Malaysia, Legoland houses MINILAND, the action-packed LEGO TECHNIC, medieval LEGO KINGDOM, and more. Meanwhile, a short drive offers access to the first Sanrio Hello Kitty Land established outside of Japan, with an array of iridescent displays and engaging activities to occupy fans of the infamous cat. Close by, the Little Big Club hosts six themed play zones containing many iconic characters from HIT Entertainment including Bob the Builder, Thomas and Friends, Barney, and Pingu.
The Room
Size and bedding
- 1-bedroom apartment: 59.08sqm with 1 King bed
- 2-bedroom apartment: 77.66sqm with 2 Single and 1 King bedding
- 3-bedroom apartment: 108.69sqm with 2 Single, 1 King, and 1 Queen bedding
Max. occupancy:
- 1-bedroom apartment: 2 adults and 2 children aged 12 and below
- 2-bedroom apartment: 4 adults and 2 children aged 12 and below
- 3-bedroom apartment: 6 adults and 2 children aged 12 and below
Hotel facilities
Bar and restaurant
Water park
Indoor and outdoor swimming pool
Team building park
Fitness centre
Wi-Fi available
Tour information
Transportation rental
Laundry service
Business centre
Parking lot
Add-Ons (payable to Hotel)
Extra bed with breakfast and water park pass for all ages: RM116 per person per night.
Breakfast only: call to enquire.
Stay without extra bed with breakfast and water park pass for child aged 4 and below: free.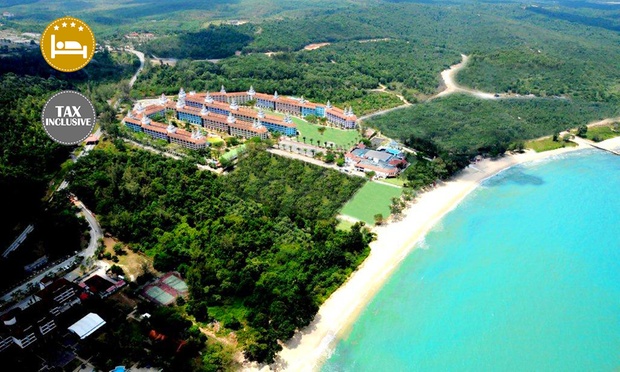 Unfortunately the following deal is no longer available
but do not worry, there are more discounts for you
---