Choose from
High Mountain Deluxe Room
3D2N stay for 2 for $269 (up to $577 value)
4D3N stay for 2 for $383 (up to $835 value)
5D4N stay for 2 for $489 (up to $1,092 value)
6D5N stay for 2 for $590 (up to $1,349 value)
8D7N stay for 2 for $779 (up to $1,864 value)
5-Star Resort Atop Mountainous Plains
Nestled in the valley of Mae Rim, northwest of Chiang Mai city, is the award-winning Panviman spa Resort. The spana-606-6">Hotel, which is ranked by TripAdvisor as spana-606-6">Hotel_Review-g1766192-d793219-Reviews-Panviman_Chiang_Mai_spa_Resort-Mae_Rim.html">sixth out of 18 spana-606-6">Hotels in Mae Rim, offers serene seclusion with wide mountain-view deluxe rooms and villas with private balconies. Surrounded by tropical forests, flower gardens, and orchards, the resort offers a quiet repose amidst lgreeneries.
The densely forested peaks are abound with recreational activities, including mountain biking, yoga classes, archery, giant chess, and meditation sessions in a cave.
For a refreshing dip, enjoy the spana-606-6">Hotel's two-storey free-form swimming pool with a poolside bar to quench thirst after swimming laps.
Panorama Restaurant offers front row seats to the surrounding vistas with a 360-degree view of evergreen and teak trees, tropical flowers, and orchards, as well as a seasonal selection of Thai and international a la carte menu.
For parents interested in indulging in the spana-606-6">Hotel's activities and facilities such as cooking classes, fitness centre, and library, babysitting services are available along with a playground.
Surrender bodies to the hands of experienced masseuses at the Viman spa as they perform ethnic full body massages, foot massages, and body scrubs.
Chiang Mai: Dichotomy of Old and New
The northern region of Thailand is strikingly different from the south; the towns flourish against a background of mountains, the weather is cooler, and life is a little more laid-back here. The cities of the north retain much of its characteristics from its time as part of the Kingdom of Lanna, and a trip through Chiang Mai will reveal a community that is deeply-rooted in tradition yet vigorously embraces modernity. It is possible to explore much of the city on foot, but songthaew (covered pick-up trucks), tuk-tuks, and motorbikes can be hired to ferry you from one place to another. Start your journey in the Old City, once a thriving city square guarded by walls and circled by a moat, but now all that is left is the memory of an exotic past that lives on in the Buddhist temples within this compound. Wat Phra That Doi Suthep lies in the outspana-50-6">skirts of the city on a mountaintop, and you can walk up the 300 steps of the intricate Naga Serpent staircase to reach the summit and be rewarded with a view of the golden spire, temple with multi-tiered arched roofs, and surrounding scenery.
Visit Baanchang Elephant Park to meet the Asiatic elephants, and experience a day in the life of a mahout, where you will learn to bond, guide, and ride on one of these gentle giants, and splash around in the river with them during bath times. As the day comes to an end, make your way back to the city in time to catch the Night Bazaar, a kilometre long stretch of road filled with stalls selling fashion items, handicrafts, and local produce. Towards the south of the street, the Night Bazaar branches off into the Anusarn Night Market, a food haven where you can find street snacks like deep-fried pork rinds, freshly spana-1655-6">grilled seafood, and soup noodles.
High Mountain Deluxe Room
72 sqm room
King or twin bedding
Max. occupancy: 3 adults or 2 adults and 1 child aged 12 and below per room. Third guest sunject to additional charges
spana-606-6">Hotel facilities
2-storey free-form swimming pool
Fitness centre and yoga studio
Restaurant and bar
Moon and Hill Tribe terraces
Library
Meeting room facilities
Babysitting services
Boutique and Viman shops
Cooking classes
Meditation cave
Mountain bike rental
Pool table
Table tennis
Jogging track
Mini-spana-34-6">golf course
Giant chess
Archery
Petanque
Kid's playground
Ad-ons (payable direct to spana-606-6">Hotel)
Stay with extra bed with breakfast for guest aged 13 and above: THB1,000 per person per night
Stay with extra bed with breakfast for guest aged 4 – 12: THB500 per person per night
Stay without extra bed with breakfast for guest aged 4 – 12: THB275 per person per night
One-way airport transfer for a maximum of 4 people: THB1,500 per way per car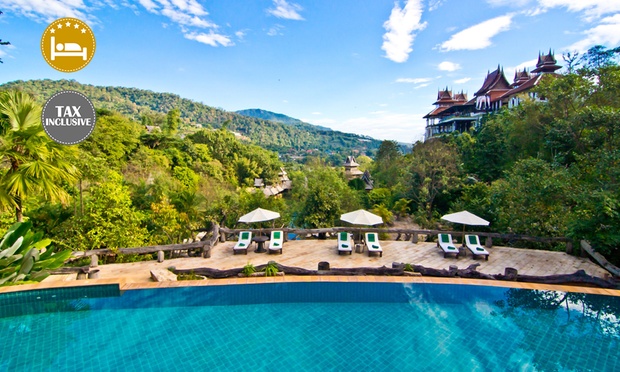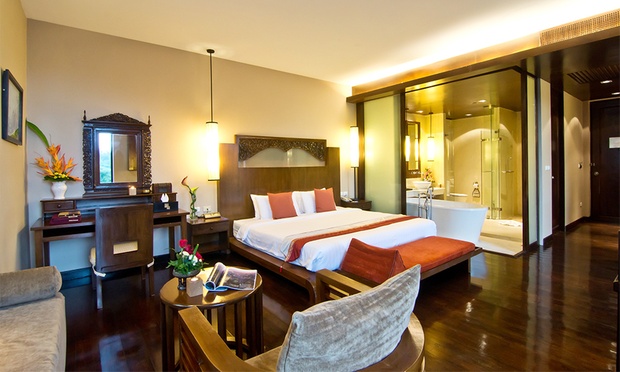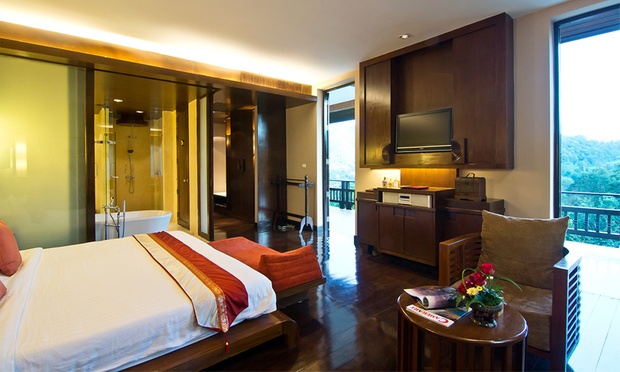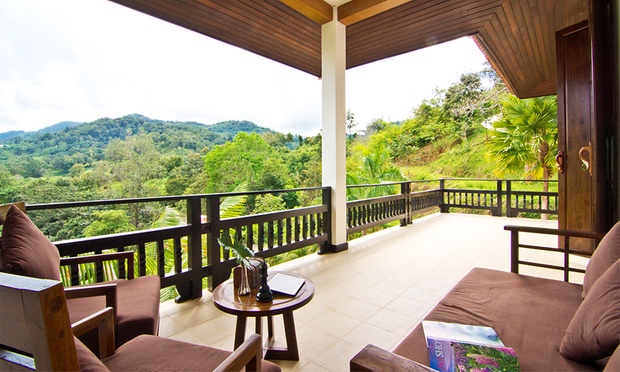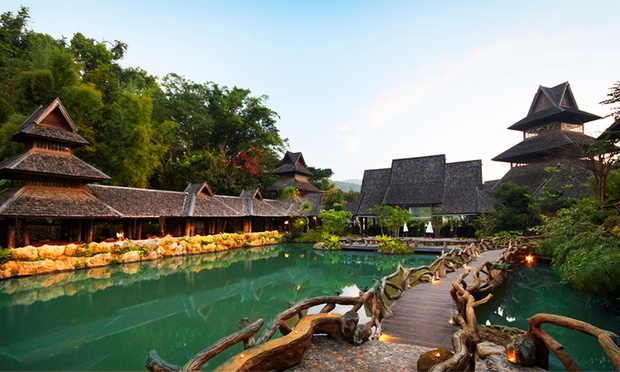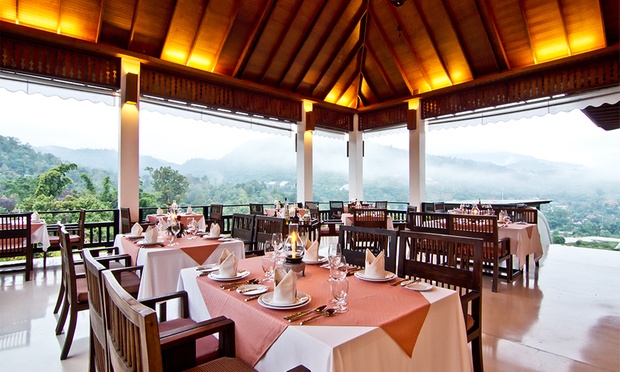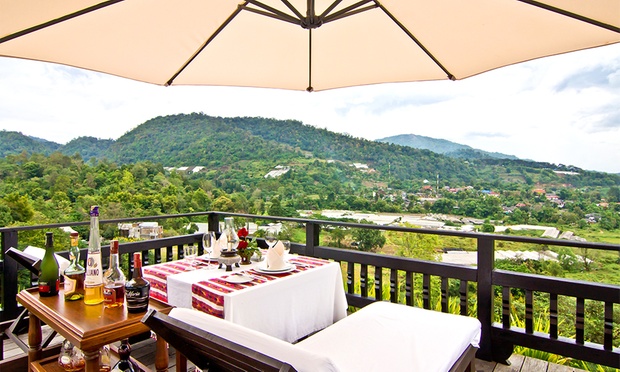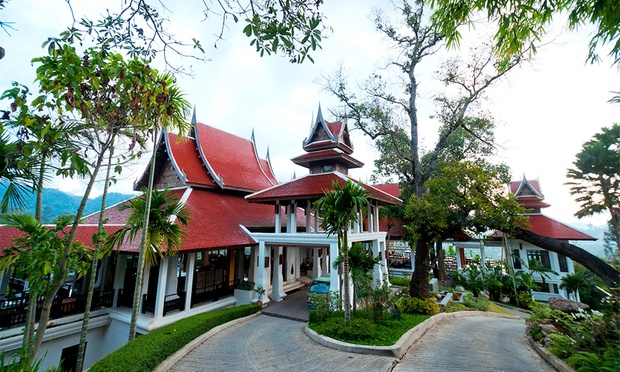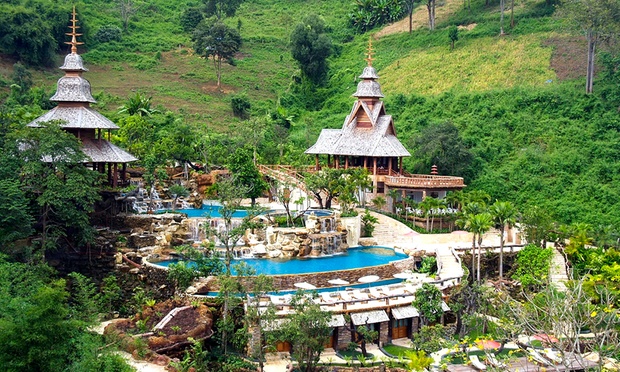 Unfortunately the following deal is no longer available
but do not worry, there are more discounts for you
---